Mendlik Orthodontics - Dr. Mark Mendlik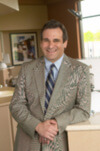 Specialties
Adult Braces
Ceramic Braces
Clear Braces
In-Ovation Braces
Invisalign
Invisalign Teen
Metal Braces
Orthodontics
TMJ
About
In 1997, Dr. Mark Mendlik joined his father, Dr. Gary Mendlik, in the exclusive practice of orthodontics.
An active member of the American Dental Association, the American Association of Orthodontists, the Nebraska Dental Association, and the Omaha District Dental Association. He is board certified in orthodontics and is a member of the American Board of Orthodontics College of Diplomats. Dr. Mendlik has also served as an Assistant Clinical Professor of the Department of Pediatric Dentistry and Orthodontics at Creighton University. He was a past president of the Omaha Orthodontic Study Club and is currently a member of the Roth/Williams International Society of Orthodontics. 

When he is not creating beautiful smiles, Dr. Mark likes to spend time with his wife, Lisa, and their twins, Dominic and Lauren.