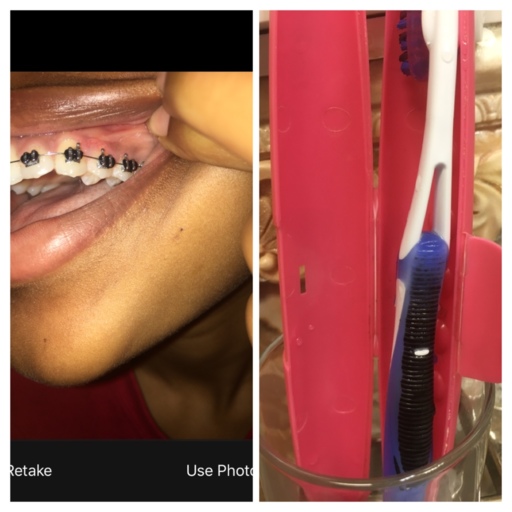 Patches on my gum
I've had braces for two months now and when I'm brushing it hurts my gum on one tooth and I bleed when I floss on that particular tooth and also should I start using mouthwash? And I've noticed some black liquid that cam on the back of my toothbrush and stuck on it, I don't know if that's what caused it. I'll put a picture of my tooth brush and my teeth.
Do you want to answer this question? Login or register now to answer this question. Answer: Patches on gums
By Sarah h
Dental Professional
The patches on your gums are natural from the melanin in your skin.  It is possible that the elastics that hold the wire onto your brackets, which appear black are mixing with toothpaste and creating a "black liquid".  Your tissue appears healthy in the photo you have submitted.  Bleeding can be caused from abrasive brushing as well as a simple food irritation.  If this continues to happen, schedule an appointment with your general dentist or hygienist for a cleaning.  Be sure you are flossing regularly to prevent gingivitis as well.  You should be using a soft bristle toothbrush and replacing it every 2-3 months, especially while in orthodontics.  The bristles should be tight and not frayed. 
More Questions from Dental Braces