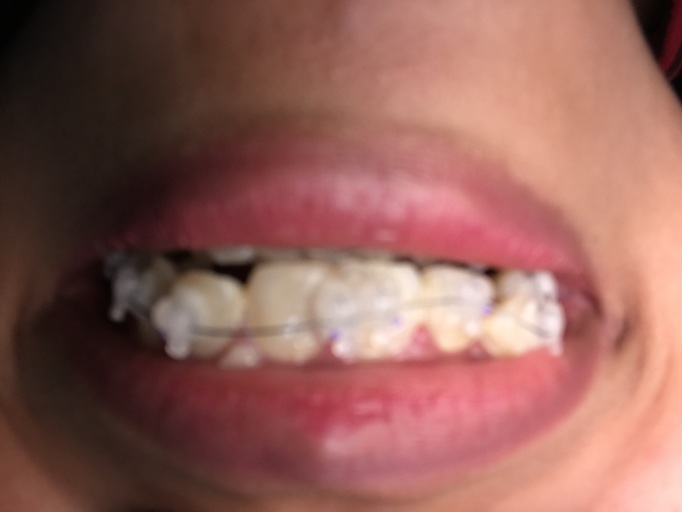 Will my Damon clear braces still be applicable if I took them off and store them for some months?
I just got my Damon Clear braces yesterday, and it was instantly the worst decision in my life. My upper teeth aren't really straight, but they're not visible when I smile. (proof: my dentist, parents, and friends are all shocked by my decision to put braces on before I show them my crowded lower teeth.) My lower teeth are heavily crowded, and my back upper teeth are actually a big crowded but as they're in the back they're not visible at all. Damon Clear brackets are huge, and they only made my front teeth look really messy (even my parents ask whether my teeth was really that crowded cause they looked fine before). And they're very white. My front upper teeth are yellow, because they're the color of the dental filling (long story short, my one front tooth was chipped, and all my teeth have congenitally bad email which shows as carbon white stripes so my previous dentist made a (really bad) decision to scrape my front upper teeth's email and replace it with cosmetic fillings which are YELLOW). Which makes the braces on my teeth look really ugly, and I mean really ugly. Cause they contrasts the color of my teeth. And when looked at from distance, it looked like I have mini small teeth with huge gaps (which are actually the brackets cuz the surrounding teeth are darker). It's really ugly and I will have it removed tomorrow. I still want braces for my lower teeth on. And maybe I'll get back to bracketing my upper teeth some months later when I'm ready and have nothing to do. What I want to know is can my Damon clear braces be taken off, and stored for months, and still be applicable by then?
Do you want to answer this question? Login or register now to answer this question. Answer: Storing brackets
By Sarah h
Dental Professional
Unfortunately when brackets are removed, they are not reused, nor can they be stored for later use.  Orthodontics is not the most esthetically pleasing process, however once your treatment is complete, your smile is beautiful.  When crowding is an issue, many time brackets must be placed on both arches in order to maintain the correct occlusion as teeth are shifting.  If you only correct one arch, your teeth may not fit together the same and long term it will develop issues with your jaw and temporomandibular joint.  Before having the brackets removed, speak with your orthodontist regarding your concerns.  Changing the shade of your teeth with whitening or porcelain veneers can be accomplished once the teeth are in the proper alignment.  Having the brackets removed so soon will not only be costly, but you will need to start the entire process again when you decide to have orthodontics in the future.  If you are concerned with the appearance of brackets, clear aligner therapy may be a better option for you.  Consult with your orthodontist on aligner therapy such as Invisalign or Clear correct to name a few. 
More Questions from Dental Braces