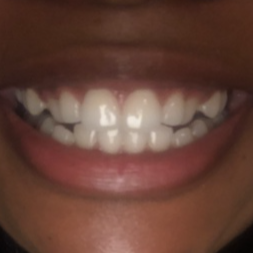 Are veneers a good option?
I have 2 canine teeth that are small in size and pushed back due to crowding. However, I am satisfied and content with the alignment of the rest of my teeth. Would 2 veneers for my canine teeth be a good option?
Do you want to answer this question? Login or register now to answer this question. Answer: veneers
By Sarah h
Dental Professional
Porcelain veneers are a great cosmetic option to change the shape, color and small alignments of the teeth.  They are a thin porcelain restorations that are bonded onto the facial (front surface) of your teeth.  Sometimes the dentist is able to remove little to no tooth structure when preparing your teeth for the restorations. Lumineers, made by Denmat, are examples of minimal or no preparation restorations.  I believe veneers would be a great option for you.  It is best to whiten your teeth prior to placement of the veneers as well, once the porcelain is placed, the shade will not change.  Be sure to find a dentist with a lot of cosmetic experience. You can ask to see before and after pictures of past cases during your consutlation.  
More Questions from Crowns