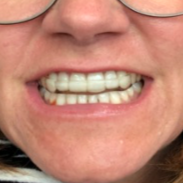 Bad veneer bad bite
I got 6 veneers on my front teeth in December. They do not fit...not the same as acrylic temps. Now have excruciating jaw pain. I also left that dentist, went to my primary dentist and he filed on some of my back teeth to relieve pain. Now as I understand it, he shouldn't have done this and I might have to get all new teeth. Is this something you've run across and what is the procedure.
Do you want to answer this question? Login or register now to answer this question. Answer: Bad veneer, bad bite
By Sarah h
Dental Professional
Before having any restorations permanently placed in the mouth, a consent form should be signed noting you have approved the final restorations.  Without your consent and approval, the restorations should not have been cemented.  Adjustments should have been made returned to the lab for correction prior to cementation.  If your bite was off, so you are hitting the restorations first, that can cause soreness as well as jaw pain over a prolonged period of time.  Without knowing what teeth were adjusted and why as well as radiographs, we cannot conclude that you do or do not need new restorations on your teeth.  It is not abnormal to have to adjust the bite when restoring 6 teeth at a time.  However, if the restorations on the front teeth were the cause of the jaw pain, they would have been adjusted and not the posterior teeth.  Having a second opinion may be beneficial to not only your understanding but as well as your oral health.  
More Questions from Dental Restoration