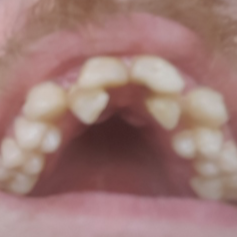 Fix Crooked Teeth
hi im looking for the cheapest way to straighten my top teeth i have straight front 2 teeth but my teeth ever side are behind my front 2 teeth and my fang teeth are also out of line have attached photos i am happy and willing to have teeth removed and something like a dental bridge or what ever is affordable i have never been able to bring my self to smile or even take care of my teeth because I hate them and it is affecting my daily life So please any option is a good one
Do you want to answer this question? Login or register now to answer this question. Answer: Correcting crowding
By Sarah h
Dental Professional
I am sorry you are not confident in your smile.  Changing your smile will change so many things for you in life, especially your confidence. It is best not to remove teeth of possible.  The easy solution for crowding seems to always be to remove teeth, however it is not the best long term. Orthodontic treatment can help you achieve the straight smile you have longed for while preserving your natural teeth. Straight teeth are naturally more healthy and can always be whitened if you choose. The process is longer, however the benefits are far greater than removing any teeth.  Clear aligner therapy may be an option which would allow you to straighten your teeth without having the traditional wires and brackets bonded to your teeth.  Start with an orthodontic consultation first to have a variety of options and an idea of your time commitment and cost. 
More Questions from Bridges