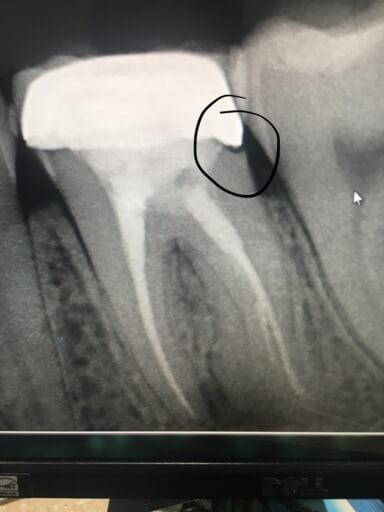 I have to re-do my crown 11 weeks pregnant
So I've been having gum pain in between my tooth and the tooth with the crown and the dentist told me that my crown was not properly fitted so bacteria is leaking inside and I most likely have an infection down below. I also have gingirifros I guess from pregnancy and one molars enamal is toraltngone and has some holes he suggests I get a crown there and one on top to prevent damage to the top one. I see way to many crown work going on and it's expensive. He thinks that my crossbite caused it and suggested I also use a night guard in case of grinding. What are your suggestions and based on the photo below what do you think?
Do you want to answer this question? Login or register now to answer this question. Answer: open margin on a crown
By Sarah h
Dental Professional
It appears in the radiograph you submitted that the distal margin of the crown is open.  The crown could have fit improperly when it was cemented in, or decay may have formed since it was placed.  It is hard to say if there is active decay under the crown, because there is metal in the crown, which appears opaque on the radiograph.  The only way to determine if there is decay and the extent, is to remove the crown and have a new crown fabricated.  If your obgyn approves for you to have treatment, it is a very predictable procedure with minimal risk involved.  If your doctor does not give you permission for treatment at this time, there is a risk that a cavity could continue to grow under the crown and affect the nerve tissue.  It is always better to restore the tooth as soon as you find an issue, it will only continue to get worse.  As far as a night guard, it is a great option for reducing damage to tooth structure during clenching and grinding.  An impression is taken and the appliance fabricated.  No anesthetic is involved, so the procedure is completely safe for pregnant and nursing women. 
More Questions from Crowns