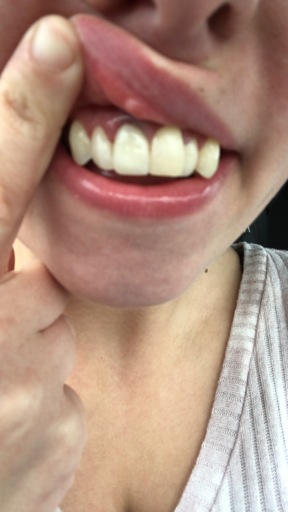 Traumatic injury to mouth needed a dental crown. Problem.
I got in a traumatic accident where all of my front teeth became loose. Luckily all of them tightened up besides one. I saw a dentist immediately after and a couple weeks later I needed a root canal and crown on #8. The root canal procedure seemed to go well (no more pain). When my dentist tried putting the temporary crown on I was having so much pain I was in tears as he was trying to push the temporary up on my tooth. When the temporary crown was on without someone moving it I was had no pain. A week later I got the permanent crown put on and it felt great. It still does beside the fact that the gum line around that tooth is still grey and it feels weird as if it's loose when I bite down. I have an open bite so I can't tell if the bite is too high or not but I haven't been able to bite down into anything since the accident. The accident happened February 4th, 2019 and I got my crown put on late March of this year. I would like to know what a dentist can do to fix this situation of mine? I don't have any insurance until September so the cost can be expensive to go to visit in general.
Do you want to answer this question? Login or register now to answer this question. Answer: Traumatic injury to front tooth
By Sarah h
Dental Professional
The dark color you are seeing is usually a result of the tooth discoloring after the root canal.  Once a root canal is performed, the tooth is no longer vital so it begins to darken.  This is common and unfortunately cannot be avoided.  Your symptoms sound as if you are either hitting the crown high or there is a possibility the tooth is fractured.  The best thing to do is schedule a follow-up appointment with the treating dentist.  You are over 3 months post-op so the tooth should be healed or close to it.  Sometimes there can be residual infection that can be cleared with an antibiotic.  If the tooth is fractured, there is no simple fix however there are many options to replace the tooth.  If you are hitting the tooth, traumatic occlusion, can cause the tooth to continue to be loose and sore.  Adjusting the occlusion, will allow the tooth time to heal if it is the cause of the tenderness.  
More Questions from Crowns