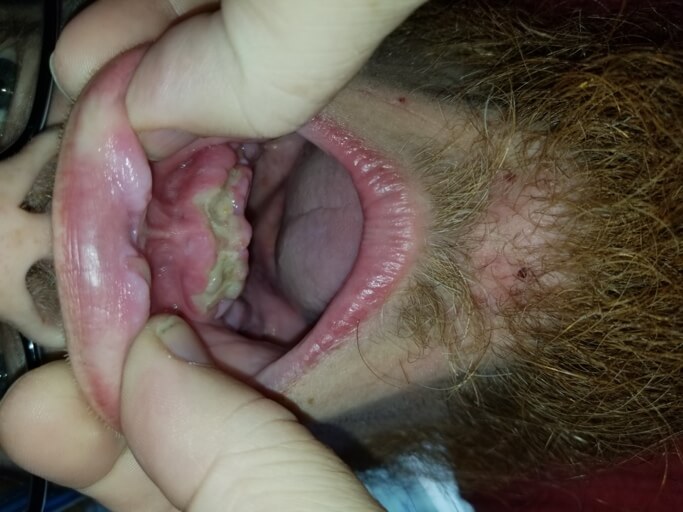 A week after extraction
I had all of the teeth left in the top of mh mouth removed a week ago, this looks different then it has in the past when I've had theeth removed individually does this look normal or do i have more going on
Do you want to answer this question? Login or register now to answer this question. Answer: Healing after extractions
By Sarah h
Dental Professional
It is hard to see in the picture if you have sutures or not. However, just like any other area in the body, a scab is produced to protect the wound. Your mouth is no different.  In the mouth it appears much different especially if you are unable to keep the area clean and free of debris.  If you have sutures present, unless they are gortex, they tend to hold a lot of bacteria and debris.  Be sure you are using warm salt water rinses 2-3 times a day and after you eat. If you were given antibiotics, take the entire prescription as directed. Do not stop taking them without being ordered to do so by your dentist.  If you have pain associated with the site, call the dentist or oral surgeon immediately.  If you see puss or abnormal bleeding, this is also a sign that there is an infection present.  You should see the treating dentist no more than approximately 7-10 days after the extractions for a post operative check.  If this is not scheduled, do so as soon as possible.  
More Questions from Extractions