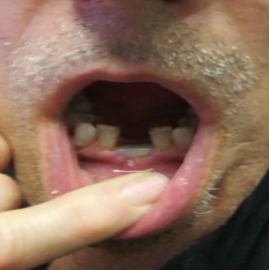 Bone graph
two bottom front teeth extracted. Had bone graph. White membrane is covering socket. No gum tissue is over membrane. When membrane is removed, will I have exposed jawbone? Should membrane be covered with gum tissue? I do not understand. Thanks.
Do you want to answer this question? Login or register now to answer this question. Answer: Bone graft
By Sarah h
Dental Professional
A membrane, usually collagen, is placed over a bone graft to protect the newly placed graft during the healing phase.  Once the inital healing begins to take place, your body may not need the assistance of the membrane and it will fall off.  If your body uses the collagen to assist with healing it will be absorbed.  Your bone will not be exposed when the membrane is removed unless it occurs prematurely.  Be sure to follow all the instructions you were given after the extractions.  Do not smoke or drink through a straw.  Be sure to take all your prescriptions as directed and keep the area as clean as possible to prevent infection.  If you have a foul smell or bleeding follow up with your surgeon immediately.  
More Questions from Extractions