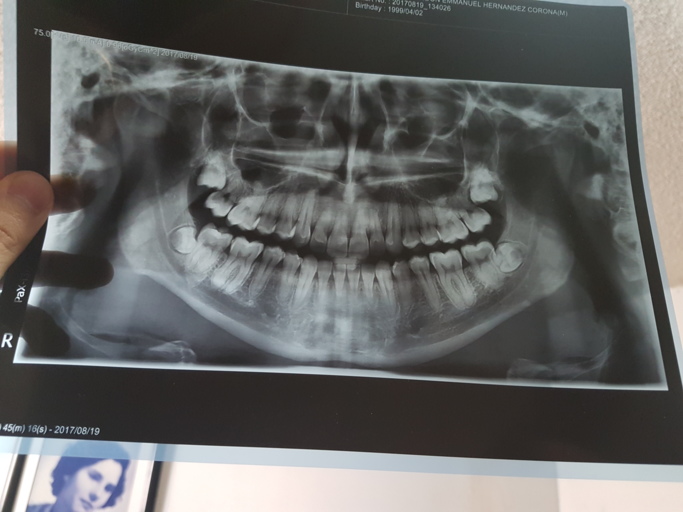 Do I need Wisdom Teeth extraction ?
Hi, I'm Brandon, 19 year old. I am currently in this situation: I got removed dental braces for about 3 years ago. At that time, my dentist sent me to take a panoramic radiography just to check out if wisdoom teeth were correctly after braces. His conclusion was that he recommend me to extraxt the 4 wisdom teeth with a surgeon just to prevent any future complications. I didn't do anything at the time, just waited for any future pain or something, because i really didn't think the wisdom teeth extraction necesary. So I took another radiography a year ago (August 2017, in the image attached) just to check them with the surgeon. He told me the same old story, a recommendation to extract them, but this time, I GOT SCARED 'CAUSE the surgeon warned me that in the extraction it was little possibility to damage the down nerve of my mouth and also the sinus bone near the upper wisdom. I felt almost decided to extract them until that warning from the surgeon. So I recently got another surgeon opinion and it was totally the opposite, he told me he wouldn't care about nerve damage in extraction because all wisdom teeth were out of warning zones. Finally I got to mention that i have often aura migraines (1 or 2 per month) since a year. I found on the internet that ATM disfunction, wisdom teeth and other things can cause migraines, even false migraines with aura or something, but actually no surgeon or physician could relate both things (wisdom teeth and migraines). Actually I also have problems with hearing on my right side ear and my right side nose since 2 year or so, i mean i feel like clogged or congestioned like allergy.
Do you want to answer this question? Login or register now to answer this question. Answer: Wisdom teeth extracted
By Sarah h
Dental Professional
Im not sure if the radiograph you uploaded is the most current, however if those were my teeth, I would schedule my extractions soon.  If the teeth fully develop there is a much higher chance of nerve damage and perforation of the sinus.  It is also an easier procedure to remove the teeth when the roots are still fused.  When a dentist or surgeon recommends treatment, it is best not to wait for pain or further complications.  If you have a small cavity, will you wait for it to abscess before getting it treated?  Your wisdom teeth are never going to fully erupt on their own and can only create hygiene issues within your mouth.  Some people are fortunate and have the space, however they too have issues keeping the areas clean and plaque free.  The teeth are non-functioning in your case and it is best to seek treatment with an oral surgeon rather than continue to wait at this point.  
More Questions from Extractions