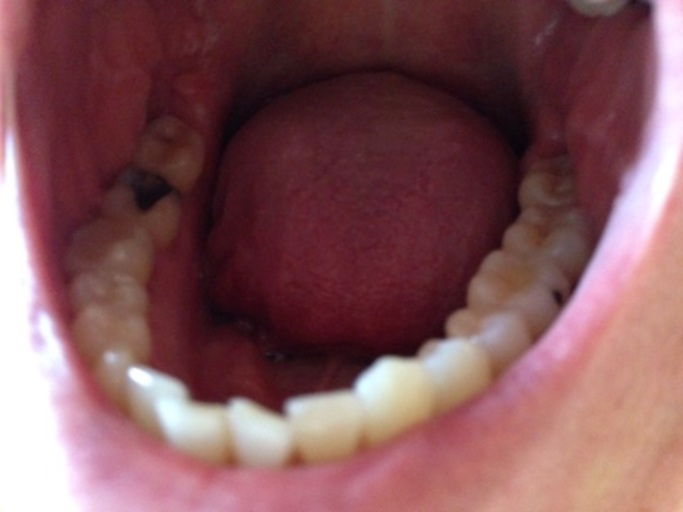 Is this a cavity in my wisdom tooth?
Hi, I am 31 and have observed a dark spot on my lower wisdom tooth (the tooth behind the one with the large silver filling on the picture). All my wisdom teeth have erupted quite good, but short after eruption I had small cavities which were filled with white fillings - that was about 12 years back. Now I see this dark spot which I think might be a new cavity besides the old filling or maybe the old white filling has fallen out. I have no pain from the tooth. I take good care of my teeth and have not had any new cavities for more than 10 years, but I have several fillings from my teenage years and some of those have been refilled over the last five year. Is it a new cavity? Will it be possible to repair my wisdom tooth with a new filling?
Do you want to answer this question? Login or register now to answer this question. Answer: Cavity in wisdom tooth
By Sarah h
Dental Professional
Unfortunately, there are only 3 ways to detect dental caries.  First is with a dental instrument known as an explorer, the sharp point at the working end of the instrument can detect a softening in the enamel.  Second, is with dental radiographs, both traditional and digital films are used to detect dental caries, especially interproximally (between the teeth).  Third is the use of digital fluorescence, such as a KaVo diagnodent. Normal healthy tooth structure produces little to no fluorescence, while carious tooth structure will fluoresce proportionate to the degree of the caries.  
It is possible that your resin restoration is stained or may have come out and the underlying tooth structure, dentin, is a darker shade than the harder enamel covering the surface.  Continue with good oral hygiene habits, brushing twice daily and flossing at least once.  Limit high sugar and sticky foods until you see your dentist.  It is best to be proactive and take care of a small cavity when it is diagnosed.  Not only is the procedure less involved, but is usually less costly as well.  Resin restorations usually last 5-10 years, so it may be time to have it replaced.  
More Questions from Cavities