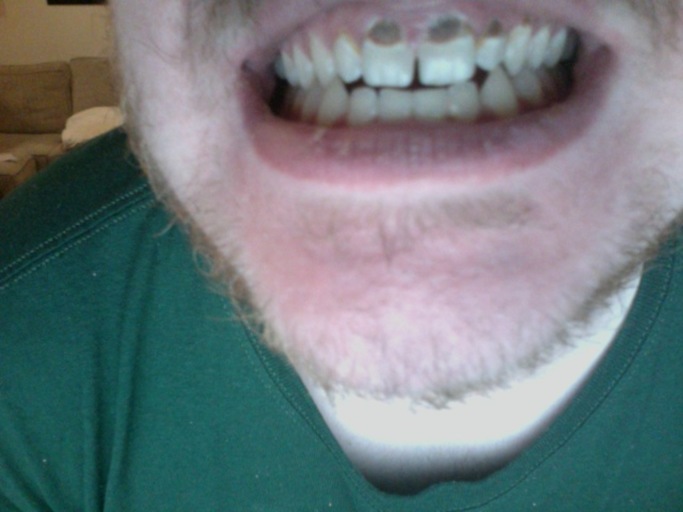 Need Quote Cost of Implants/My Long Term Dental Hygiene Problem
How much in your estimate would a full surgery of taking teeth out and replacing with new? What payment options are available? Is it a pay in full right away, or is their a monthly payment option until paid in full? So right now my problem is this. Three of my front top teeth have a brownish/blackish color formed at the tip of the tooth on three teeth. This is the area that cannot seem to stand cold water as it hurts. Moving on to details about my history. It wasn't good. Literally when I was a kid ( I am 22 years of age now) I would go weeks without brushing. (I know, disgusting when I look back on myself.) Since I was 17 I began getting back into once a day brushing but no flossing. I use a sensitive teeth toothpaste that helps for the pain of the three front teeth. But still I look at all my friends and many people I meet and everyone has such a beautiful smile pearly whites all alined well and mine are slanted and gapped and gross. Please help. I cant fit the rest of the details it ends here shortly after
Do you want to answer this question? Login or register now to answer this question. Answer: Long-term dental Care
By Sarah h
Dental Professional
Many dental offices offer payment plans and financing with the increasing cost of dental treatment.  Do not condem yourself for your past, you have corrected your habits and improved your oral hygiene.  From the photo you submitted it appears those front teeth may have a moderate amount of decalcification or decay.  This would explain the cold sensitivity you are having as well.  It is best to keep your teeth if possible.  Extractions and implants can be much more costly than restoring your natural tooth.  The average extraction and bone graft for a single tooth can be upwards of $600,  more than likely you have 28 teeth (not including wisdom teeth).  Implants can be $3500-5000 per tooth.  Before you decide on extracting your teeth, set up a complete consultation with a dentist including radiographs.  This will allow the dentist to look at your entire history and each tooth in order to decide the best long-term treatment for you.  Once your gums and teeth are healthy, cosmetic options can be discussed.  It may be overwhelming to see a dentist for the first time in several years and more so when you receive a treatment plan.  It could be a lengthy process, but the dentist and staff will support and guide you through each step of the way. 
More Questions from Dental Implants