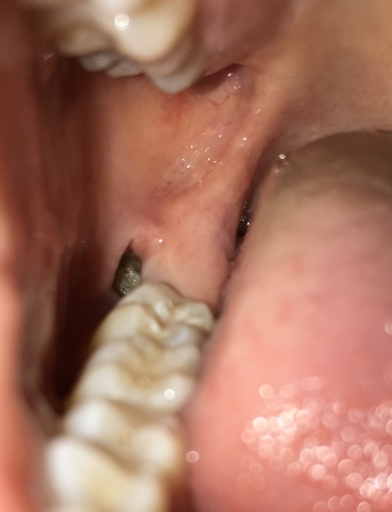 What is this grey stuff in my wisdom tooth extraction site?
On August 22nd, I had all 4 wisdom teeth extracted. The recovery has been pretty normal, I'm not in too much pain anymore (although I thought I had a dry socket at one point due to not being able to see the blood clot) but as I was flushing the sockets with the syringe tonight, I took a flashlight and looked at them. In my lower right socket (which was an impacted wisdom tooth), I can see this grey colored stuff that I haven't seen the last few days. Is that my jaw bone? That is the same one that I thought had a dry socket a couple of days ago. I'm trying to not let it worry me, but I'm not sure if it could be bone, or the blood clot or something else. Three of the sockets seem to be a little sensitive to cold air and feel sensitive when I irrigate them, but I figured that was normal since there are now four large holes in my mouth that weren't there before.
Do you want to answer this question? Login or register now to answer this question. Answer: Grey material in extraction site
By Sarah h
Dental Professional
From your picture, you are healing well.  Some discomfort is expected for several weeks after the extractions.  The grey material you see is just like a scab you would have on your arm if you had a scrape.  Your body forms a protective layer over the wound during the healing process.  This is covering the bone during the healing process and will eventually dissolve as the socket continues to heal.  Continue to irrigate the socket and keep it free from debris.  A dry socket usually occurs within the first 48-72 hours after the extractions and is extremely painful.   
More Questions from Extractions