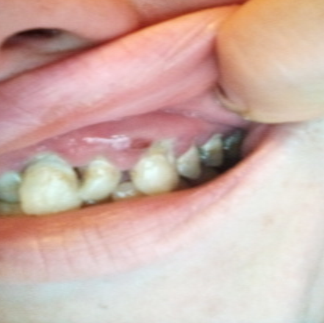 Do I have an abscess?
I am a 31 old female i have type 1 diabetes and stage 3 liver disease. I also have a crossbite in the front due to an accident 17 years ago. Over the years with my diabetes and my crossbite all my teeth are super loose and rotted I also have missing teeth.... Well as time has gone by I seen a few dentists and they said all the rest of my teeth are bad I need them pulled then they told me they need to put me under then pull them all and get dentures a few months later.... Well my insurance didn't cover it all and tried to make me pay 1800$ out of pocket ... Well I don't have that and that's also what happened to the last dentist I have seen..... So I Kno my teeth are no good and are sensitive and brittle but the last few days my gums have been hurting and red and swollen and sore I noticed a cut or blister forming on my gums well tonight I looked at it again and there was puss coming out and I've been sick with a virus going around for like 3 weeks so I don't know if that would have anything to do with it the past few days I've had migraines and an off an on slight fever around 99.5 but it doesn't stay for long.... But I can't tell if the slight on and off fever and migraines are from me being sick or my gums....... Do I have an abscess on my gums???? I'm in so much pain!!! I can't sleep... :( And yes I'm aware how bad my teeth are....
No answers so far.
Do you want to answer this question? Login or register now to answer this question.
More Questions from Toothache