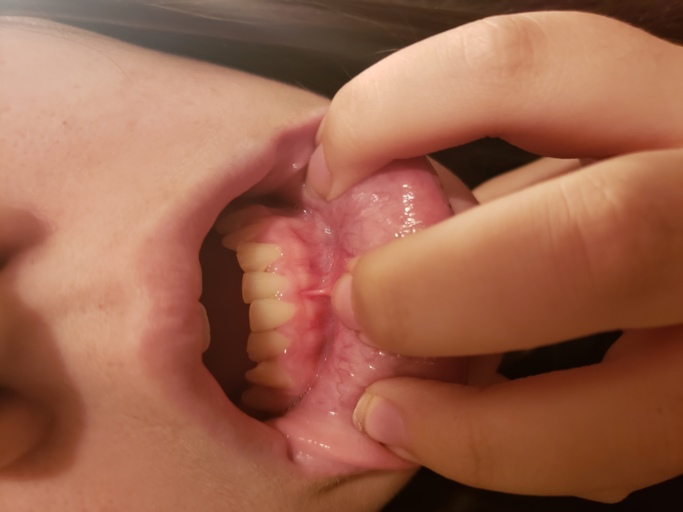 Gum issues.
Hi, I'm Nina. And recently I've visited the dentist for my deep cleaning and such. I never had one before and god did it hurt, but I managed through it. But a little after my gums (the bottom front specifically) have not gotten better and to this point my gums have been swollen and uncomfortable for the past few days. Now, I've read that it's normal for your gums to stay agitated after a week or so after a deep cleaning. But then I'm also worried it might be Gingivitis? Knowing myself I always look into the worse of things and I was never one to keep my mouth clean and I've recently been told my teeth need some work. But I never felt this until now; after the check up/cleaning. But I literally can't tell or see the difference between the two, and I'm scared to see and wait if something's wrong or it's something not so major and it'll go away on it's own.
Do you want to answer this question? Login or register now to answer this question. Answer: Gum issues
By Sarah h
Dental Professional
Gingivitis is inflammation of the gingival tissue (gums).  Being that you recently had a deep cleaning, a moderate amount of built up plaque and calculus was removed.  This can cause the area to be tender and swollen for several days.  Usually warm salt water rinses are recommended to help heal the area along with improved brushing and flossing.  It is extremely important to be diligent with your oral hygiene in order to improve the health of your oral tissues.  You may experience some light bleeding with brushing and flossing initially, however this should continue to diminish over the next 7-10 days.  If you still feel that your condition is continuing to decline, schedule a follow-up appointment with your dental hygienist and he/she can re-evaluate the area and be sure you are improving.
More Questions from Dental Fear