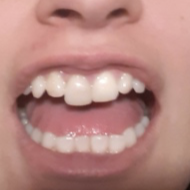 If My Front Tooth can be Salvaged.
Hi,I reinjured one of my front teeth that was previously injured after a fall and was pushed back in my mouth 1 yr ago. I had it positioned back into place, got a root canal done and had splinter over it. But 2 weeks ago I reinjured the tooth and it got pushed back in my mouth again. It got positioned back in place but this time it hung lower than other teeth and is loose. Dentist said I have root reabsorption and should get it pulled. Is my roots broken? Can my tooth be tightened back up again and pushed upwards into gums? Or must I get it extracted? Will my tooth eventually fall out anyways if I decide to keep it? I really want it saved.
No answers so far.
Do you want to answer this question? Login or register now to answer this question.
More Questions from Endodontics