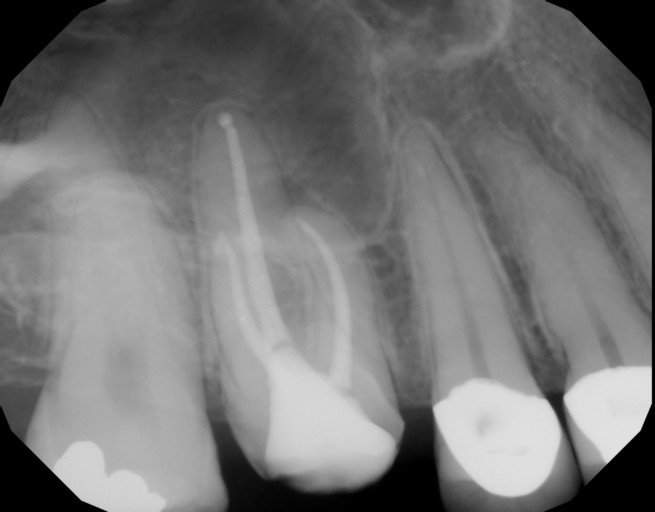 Is this root canal ok? What is black space?
Had a root canal done almost a year ago but had the crown removed because food kept getting trapped underneath. It is tooth #29. It was omitting a bad smell from flossing the food out that kept getting trapped by the crown. Then I noticed on the xray theres a black space near the root. I asked the dental clinic where the root canal was done but seemed to avoid the question. Please see attached xray I did not want to put the permanent crown back on til I was certain but could not get a straight answer from my provider.
Do you want to answer this question? Login or register now to answer this question. Answer: Black space
By Sarah h
Dental Professional
Unfortunately, I am unable to see the x-ray you submitted for tooth #29.  However I do see the x-ray you submitted for the upper right tooth #3 which has a crown off and an existing root canal.  Sometimes, a small black area around the apex of the root after a root canal can be a scar from the previous infection.  It is hard to tell if it is a new infection, especially not being able to compare the pre-op and post-op x-rays.  The large black space above the tooth is actually your sinus cavity.  Any open space will appear more radiolucent (black) than for example, bone which is more dense.  It is not a good idea to keep the crown off, the tooth is exposed and there is a risk of having a re-infection from the presence of bacteria.  It is best to re-cement the crown even if it is with temporary cement to keep the tooth protected from bacteria, prevent the tooth from shifting and super erupting as well and worst case, fracture.  These movements happen very quickly and will cause the crown to no longer fit the tooth.  If the tooth were to fracture, there is a possibilty it would need to be extracted and a dental implant placed.  It is better to be proactive in this situation. 
More Questions from Endodontics