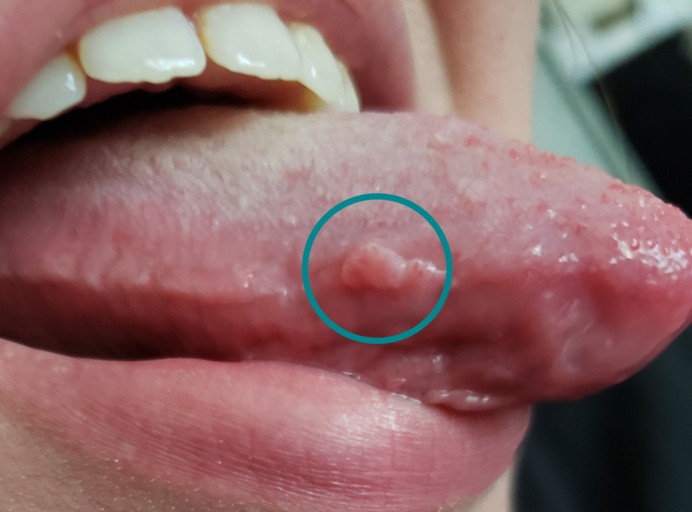 Is the bump on my tongue cause for concern?
Hi, my name is Sarah, and I'm a 25-year-old female. I have a bump on the lateral right side of my tongue (see picture). In diameter, I'd say it's about the size of a pencil eraser. The other side of my tongue does not look like this at all. There's slight irritation when it hits against my teeth at times but nothing too bad. It really just started to bother me today, and I admittedly can't stop feeling it, which probably doesn't help with the irration. (Note that the picture was taken before this toying around with it.) To give you some background about me, I've been a life-long tongue-thruster and especially do it when I sleep. I believe I have a mildly scalloped tongue for this reason. If my memory serves me well, I think this sort of irritation on this side of my tongue has happened before and went away on its own, but I could very well not be remembering correctly. If this has happened before, this is definitely the first time I've taken a picture. Anyway, I've also smoked since I was 18 but quit a little over a month ago. I've heard that quitting can sometimes cause these sorts of oral problems, though I'm not sure. You're the expert! After a lot of Googling, I'm hoping this is just some sort of canker sore or irritation caused by how much I push my tongue up against the back of my teeth. I'll be sure to keep an eye on it to see if it changes in size or shape or anything. Also, please note that I don't have health or dental insurance. I'm not in a financial position to go to the dentist like I'd like to, but I'll certainly try my best if you think this is cause for concern. I'd really appreciate your professional judgment. Thanks, Sarah
Do you want to answer this question? Login or register now to answer this question. Answer: Is the red bump on my lateral side of tongue cause for concern?
By Rohan B

Hi Sarah, I have something similar to what you had. I'm 25 and had been smoking since I was 18. Moreover I've been wearing aligners for the past 10 months. It's been two days since the red bump appeared on my lateral side of the tongue. What's with your bump? Is it gone?
More Questions from General Dental