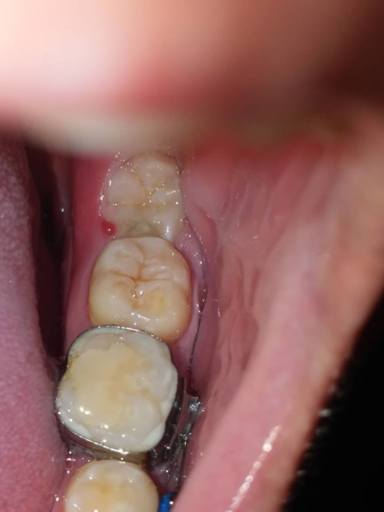 Is this infected?
I have this small operculum on my left wisdom teeth and it turned red. I accidentally bit a bone to it last night and it turned red. Should I be worried about it? Is it also infected or a symptom of gingivitis or pericoronitis? it doesn't hurt unless touched.
Do you want to answer this question? Login or register now to answer this question. Answer: Is this infected?
By Sarah h
Dental Professional
It appears that is it abraided and irritated from the sharp bone that punctured the tissue.  Keep it clean and rinse with warm salt water several times a day to soothe the irritation.  An infection would not develop this quickly.  If it doesn't resolve on its own, have your orthodontist or general dentist examine the area.  Your dentist may suggest having your wisdom teeth removed in the near future. 
More Questions from General Dental