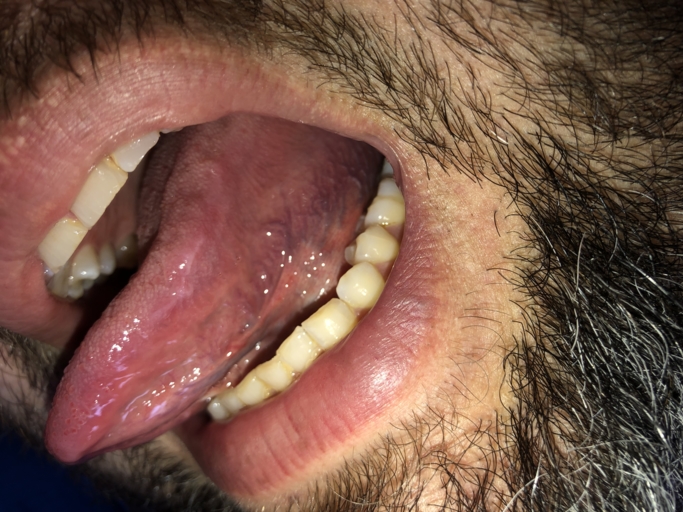 White mark on side of tongue
Hi, I noticed over 7 months ago this area on the side of my husbands tongue that is white like a line. It is right where his bite aligns. He had a upper molar extracted over a year ago. Before then we never noticed the area. He also has a very large tongue and sleep apnea that he wears a cpap for. The area sometimes goes away then comes back. He asked the dentist about it at the last cleaning but she didn't seem concerned. He also uses smokeless tobacco and has used it for over 15 years. So I am always worried about cancer. Can you let me know if we should be worried or trust what his dentist had to say.
Do you want to answer this question? Login or register now to answer this question. Answer: White mark on side of tongue
By Sarah h
Dental Professional
From the picture, it appears as the white line you are referring to is close to the front of his tongue.  This could be from his cpap machine or since he is a mouth breather, he could be sucking that part of his tongue in between his teeth when sleeping.  Areas of concern regarding the smokeless tobacco are usually in the area in which he places it and the tissue surrounding, not necessarily the tongue.  However, it is always best to be safe than sorry.  Ask your dentist to perform an oral cancer screening or ask for a referral to the oral surgeon.  Make sure the length, width and a detailed description of the area are recorded so it can be periodically checked and referenced so any changes can be noted.  If a biopsy is required, the oral surgeon can perform that procedure while you are there. Piece of mind will put you at ease. 
More Questions from General Dental