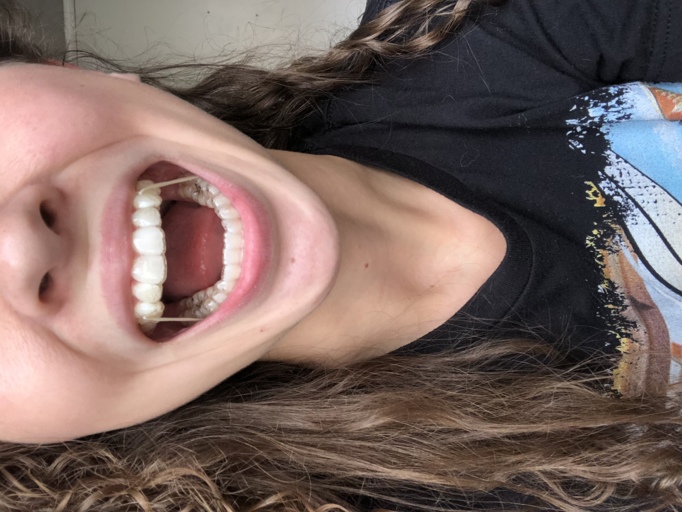 Will Invisalign help my TMJ problems?
I have real bad popping on the left side of my jaw (so loud that it makes people sick to hear me chew) and my jaw doesn't open all the way unless I slide it to the right and open (when I slide it to the right, my teeth are aligned properly). When I open my mouth normally, you can actually see my jaw shifting to the left. No pain though! After about 2 years of dealing with this, i recently got Invisalign from my ortho & he said I have a Crossbite on the left as well as an overbite. He said the invisalign will fix both and will solve the jaw issues. However, I've noticed the jaw issues getting worse. How do you know if the popping is just from misaligned teeth or something wrong in the joint itself? Will Invisalign actually fix the jaw problems? I've heard mixed stories :( The picture shows my jaw sliding to the left when opened & also shows the limit of how far I can open (can't fit two fingers in between top and bottom)
Do you want to answer this question? Login or register now to answer this question. Answer: Invisalign and TMJ
By Sarah h
Dental Professional
The most conservative way to treat TMJ (temporomandibular joint) disorders, is to correct malocclusion and re-train the joint using orthodontic elastics.  This will also correct your cross-bite, which means your mandibular (bottom) teeth rest on the outside of your maxillary (upper) teeth.  Initially, while the aligners are correcting the crossbite, you may feel as if your bite is getting worse or is more uncomfortable. However, with each aligner you should notice your bite changing and becoming more comfortable.  Invisalign is a start, but that is not to say that you may not need further treatment in the future such as an occlusal guard.  Hopefully, you have intervened in time that the joint is not damaged or worn.  As your malocclusion is corrected your opening ability should increase as well.  If at anytime you begin to experience discomfort, swelling, or increased limited opening, contact your dentist immediately.
More Questions from Invisalign