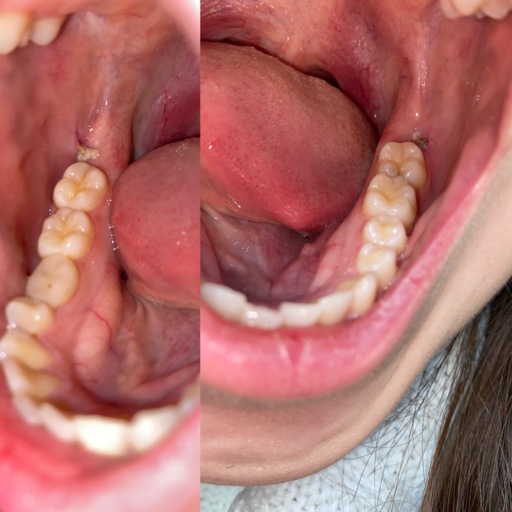 Wisdom Tooth Removal, Infection?
I got my wisdom teeth removed on January 8th (it is now Jan 23) and I'm not sure if I'm healing properly. I am unable to visit my oral surgeon again, as I attend school out of state from where I had the procedure otherwise I would go in for a quick post-op appointment. I had very little to no pain or swelling in the first several days, then a little bit more pain and swelling between days 5-10 but I think this was mainly due to the fact that I was taking less ibuprofen/acetaminophen, was talking more, and was beginning to eat more normally - it was only ever mild-moderate pain though. I'm still avoiding super crunchy foods, but have tried to eat popcorn and have eaten much more normally in the past few days. I did start to get sick this week with a headcold, but I have not yet had any type of fever so I think it might be unrelated. Is the white/grey matter in the sockets (which have been there mostly since the first few days after surgery) a sign of infection or something else?
No answers so far.
Do you want to answer this question? Login or register now to answer this question.
More Questions from Dental Surgery